Pro-Palestine protesters should end their calls for a ceasefire and instead focus on forcing Hamas to surrender, an Israeli government spokesperson has said.
It comes as events are carried out across the UK demanding a ceasefire in the Hamas-Israel conflict.
---
On previous weekends thousands of protesters and counter-protesters have converged on the capital.
The movement was spread across the nation on Saturday, diluting the raucous scenes witnessed in London in recent weeks.
Noga Arbel tells pro-Palestine demonstrators: 'Call for Hamas to surrender'
GB NEWS / PA
Speaking on GB News, Israeli government spokesperson Noga Arbel said those marching would be better served calling for a Hamas surrender.
"People calling for a ceasefire are rewarding the abhorrent behaviour of Hamas putting their own people at risk", she said.
LATEST DEVELOPMENTS
"Hamas has virtually weaponised war crimes. They're putting innocence between us and them.
"Anyone who wishes to protect Palestinians should stop calling for a ceasefire and start calling for Hamas to surrender immediately without condition."
It comes as reports suggest a significant number of hostages could be freed from the Gaza Strip in days to come.
Arbel told Nana Akua that freeing those taken by Hamas remains their top priority.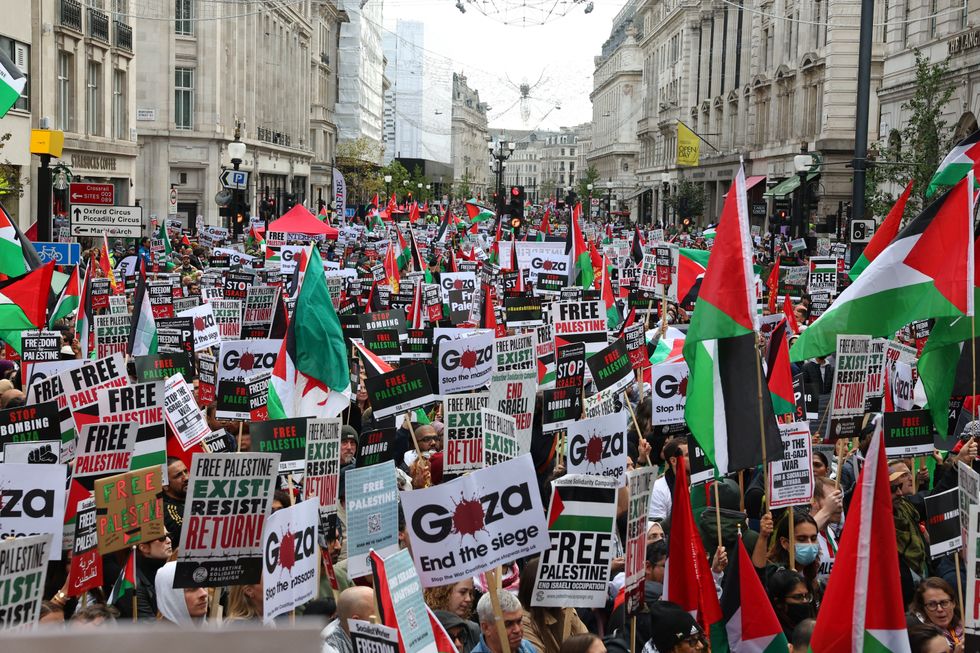 Thousands of protesters gathered in London to take part in a pro-Palestinian demonstration ahead of an expected ground invasion in GazaReuters
"I can honestly say that I can relate to anger at the international community for failing the children of Israel", she said.
"They're failing at the job of protecting innocents in this conflict at large. It's important to remember that for Israel, the hostages are a prime objective.
"Since we're fighting a barbaric terror organisation that has lies woven into its ideology and has deceived us in the past at every turn, the only way we have to try and secure the hostages is to bring the full force of the IDF (Israeli Defence Force) to bear on them.
"They will then understand they have nothing to gain from holding onto them."
While the protests weren't as vocal in London as they have been in previous weeks, around 100 were spotted in London Waterloo performing a sit-down protest.
The group chanted: "Free, free Palestine"; "Sit down, join us"; and "From the river to the sea, Palestine will be free" as they protested in the centre of the station.
Police officers surrounded the protesters before they were escorted from the station, with at least two demonstrators carried from the scene.
British Transport Police (BTP) said five protesters were arrested at Waterloo station and no train services were affected.