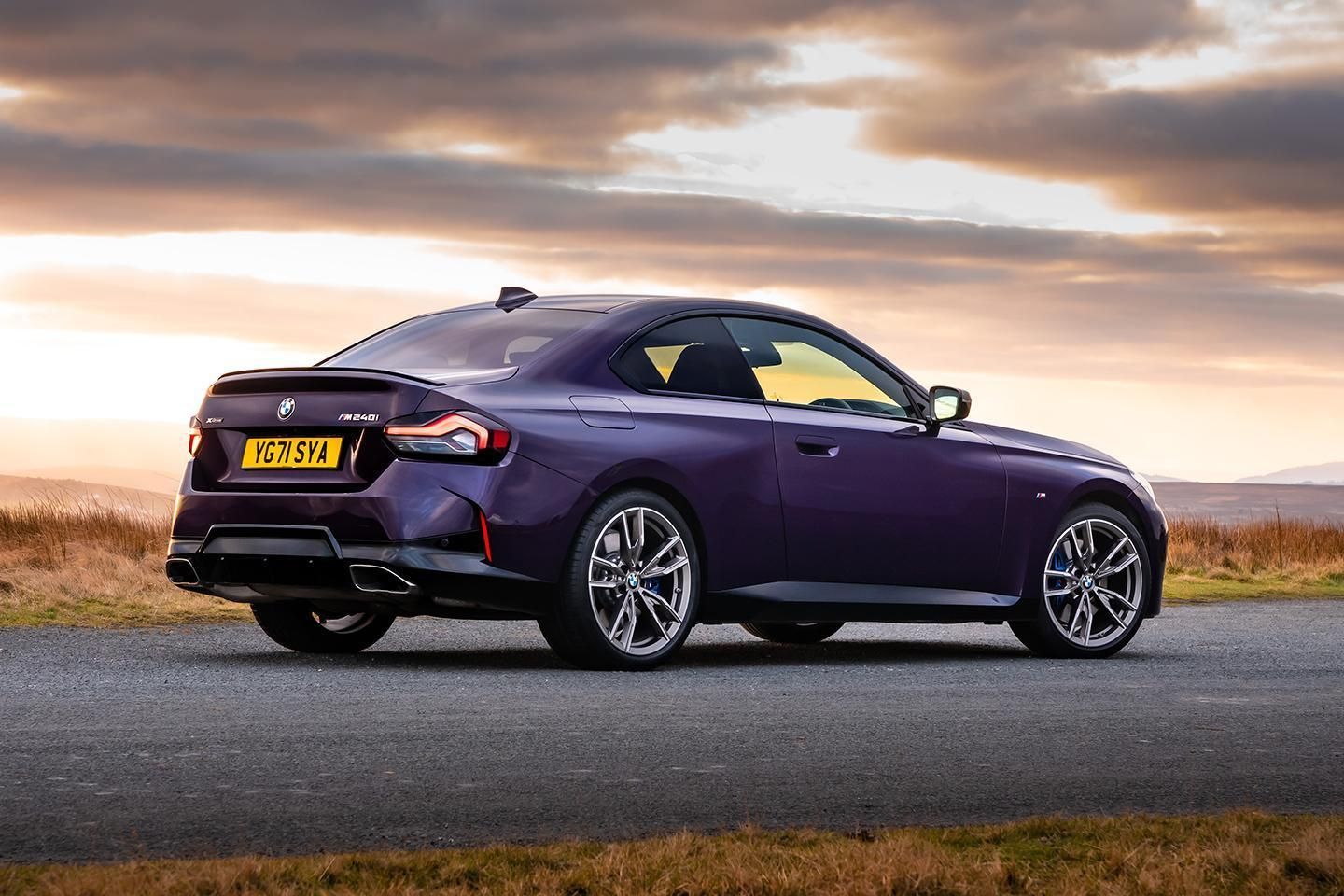 Here's something that'll set many cats among the pigeons: I didn't like the old F22 BMW M240i, and I'll tell you for why. Once, I was driving one along a humpback road that was a wee bit damp, and I gently caressed the accelerator pedal – and I mean caressed, gently – out of a bend. At that very moment the car pinged off the peak of a mild crest and suddenly the view through the windscreen wasn't road anymore, it was a large, earthy bank . Fortunately, the M240i didn't embed itself into it like a huge, BMW-shaped shovel, but it set the old heart racing, I can tell you.
Now, having a big, 3.0-litre straight-six powering the rear wheels in a compact car is all very well, but not if it tries to kill you if the road is damp and pimply. Which is not an uncommon scenario in the UK. The reason for the F22's unruliness was inadequate body control and a surfeit of turbo-induced torque – a combination that made it unpredictable. Now, if I fancy unpredictability, I will bet my house on red; I don't want to bet my life on a trip to Sainsbury's. And on top of its wayward back end, it also steered with all the finesse of an arthritic donkey. Honestly, as much as I like rear-wheel drive cars, I'd take a Honda Civic Type R over the old M240i any day.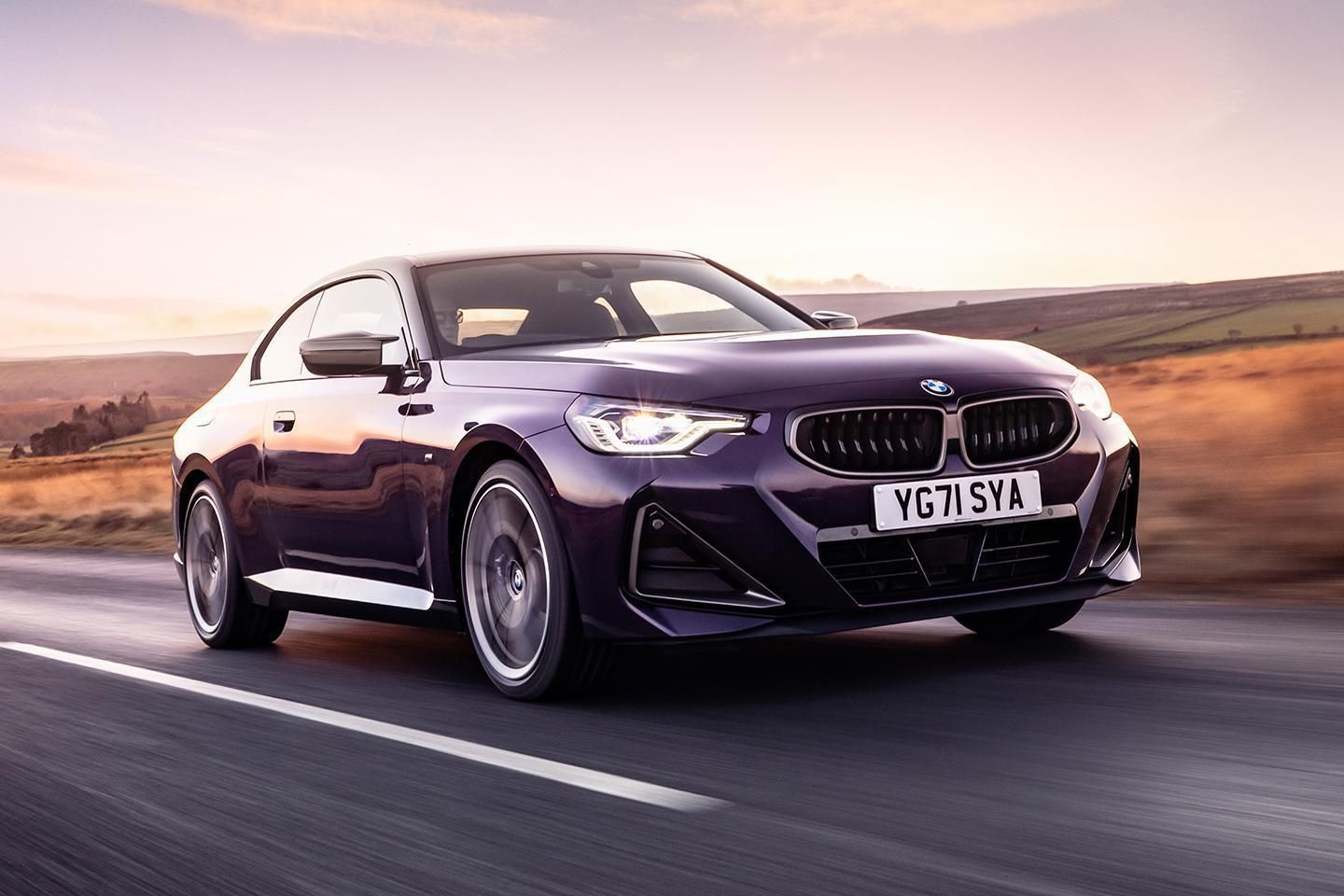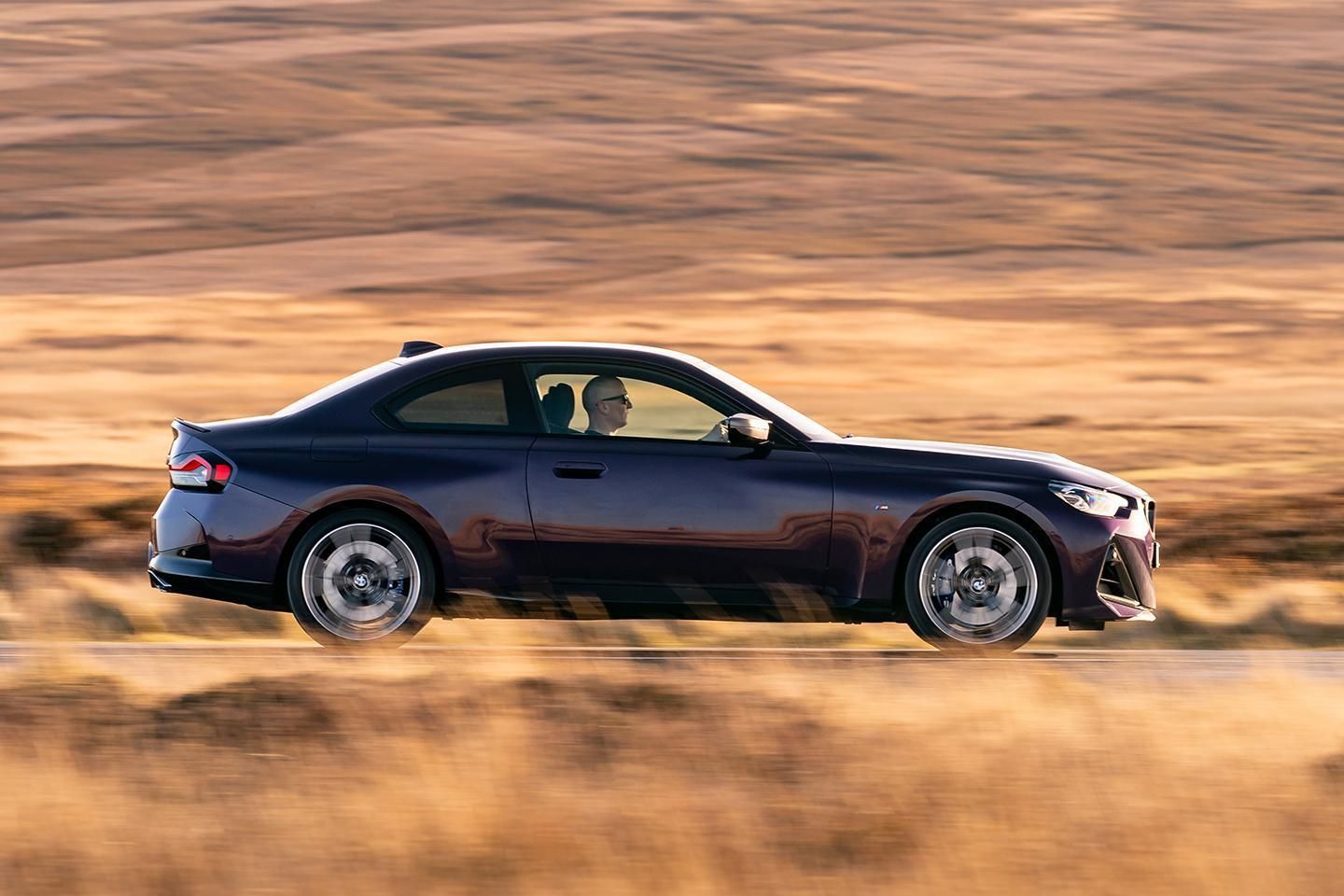 Which leads me neatly onto the new M240i xDrive, the G42. I'll be honest, I was a little confused when I first read that it was going to come with the same B58 3.0-litre, longitudinal, six-cylinder engine as the old model. I'd assumed, BMW would stick the new variant on the same F44 platform as the 2 Series Gran Coupé. So when I realised it was going to be wrapped around a shrunken version of the current G20 3 Series' architecture my ears pricked up; because the G20 platform is, well, bloody brilliant.
Even though it's a mini 3 Series, the wheelbase has grown to 2,741mm, which is 51mm longer than the old car's, and the tracks have grown by 35mm at the front and 63mm at the rear. It's 28mm lower, too. These are good stats if you like stability, which I do. It does mean that it's grown in overall length, which is up 105mm to 4,537mm, but that's okay, as well. If you wanted to fit anything in the old car, like more than two people, you needed to order a taxi as backup.
As with the 3 Series, the new G42 comes with die-cast aluminium struts and extruded aluminium in the engine side members. The bonnet and side panels are also made of aluminium, which means that if you buy the 220i and 220d Coupés, which are being launched simultaneously, they're 9.6kg lighter than before. Sadly, adding xDrive to the M240i has made it 205kg heavier, although BMW has tried to reduce weight where it can: even the wheel bearings have shed 2.7kg. And the weight distribution is back to BMW's best, spread 50:50 (it was 53:47 in the F22). The suspension design is similar to the F22's, with double-jointed struts up front and a five-link arrangement at the rear. Adaptive dampers are, once again, optional. The B58 motor is largely as before, except that with 374hp and 390lb ft of torque, its outputs now exceed the old M2's.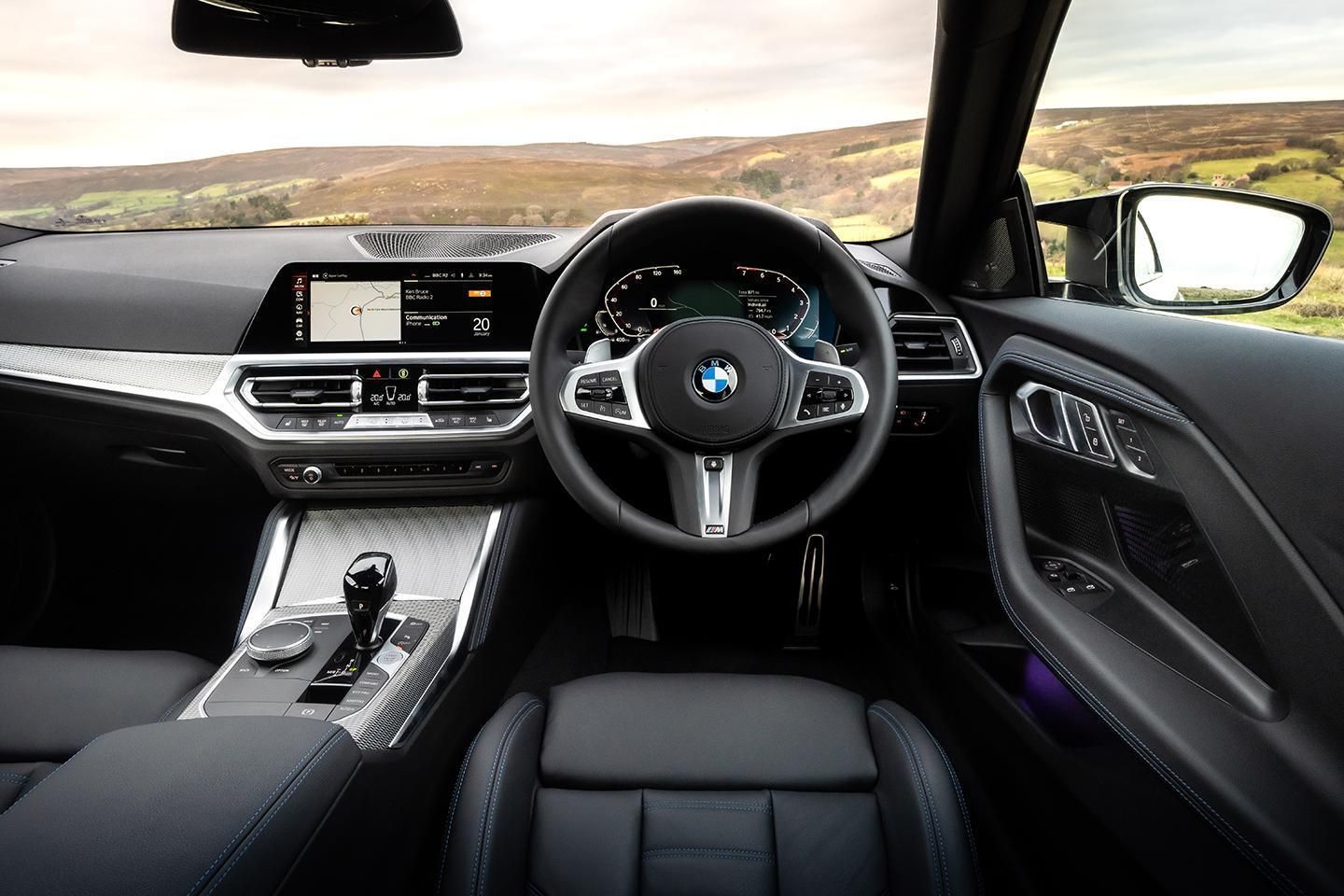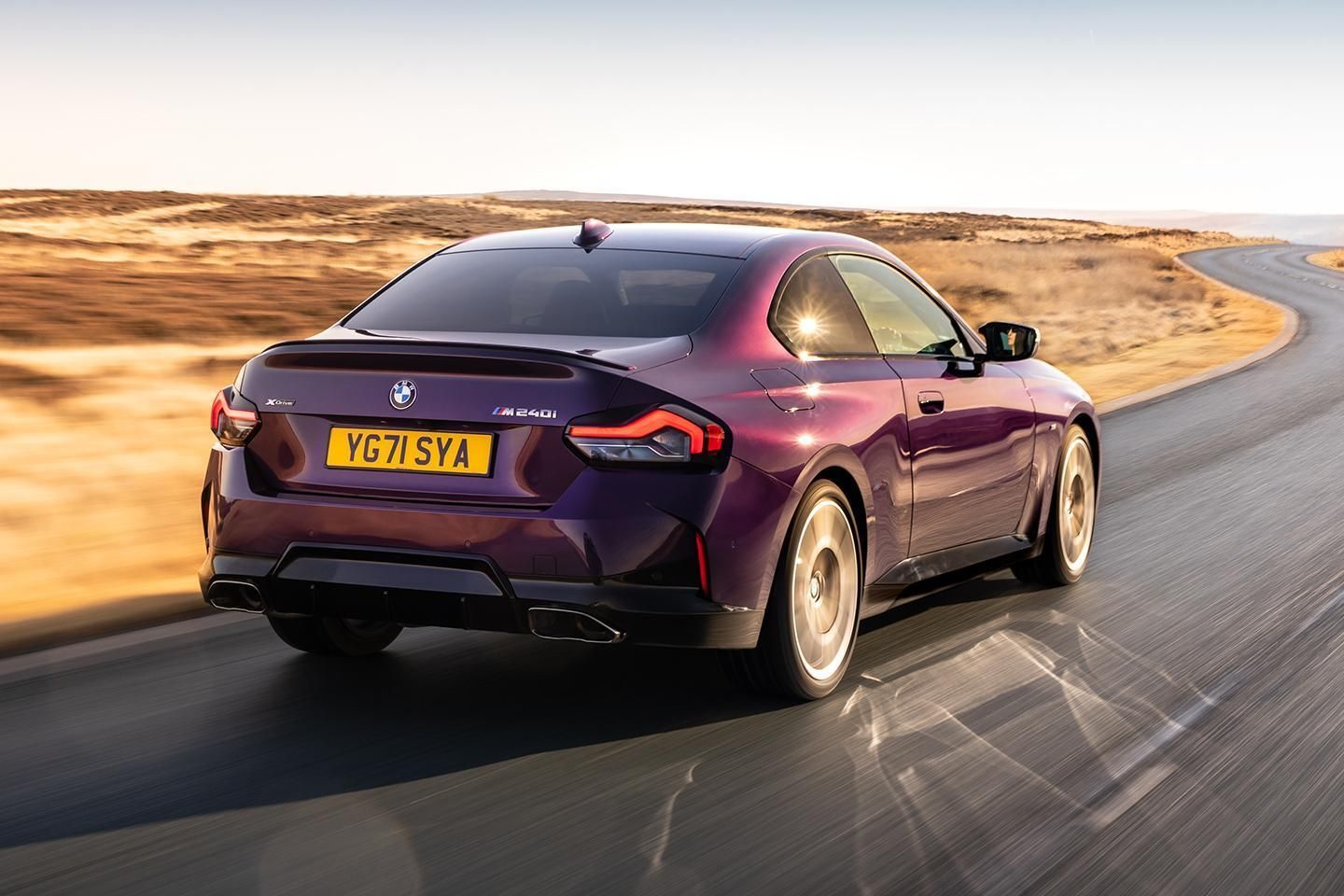 The acceleration matches the M2, as well. 0-62mph take 4.3 seconds and it's as gutsy as ever, so the M240i feels every bit as quick as it is driveable. Peak torque flows freely from just below 2,000rpm, and it pulls with vim from there on, right to its dynamo top end which wills you enthusiastically towards the limiter. It also makes a nice, silky-six noise when you're riding the effortless delivery, although it does start to get a bit fake when you hammer it. It still sounds good, but there's a tad too much digital resonance and when you change gear it burps, like someone's just unplugged the speakers without turning off the amp.
The gearbox is a game of two halves as well. It's the eight-speed ZF, so of course it's smooth and speedy when it's doing its thing, but when you're attacking corners and pulling the paddle for some engine braking – i.e. downshifting from third to second – it refuses to drop the gear until the revs duck below 6,000rpm. That's a bit frustrating. As are the brakes, which have far too much servo action (a bit of a BMW trait) at the top of the pedal that sucks you to a stop in traffic.
Its steers fluidly, though. The rate of response is good and lets you connect a series of apexes with an easygoing sort of flow. If you prefer a lighter set-up, you can have one by sticking it in the Comfort mode. Or a heftier helm? No problem, pop it in Sport. Both work. You can feel some welcome graininess from the surface beneath – not a huge amount, but it's there – although when the car starts to push the message is mixed: you don't get that distinct change in weight that tells you what's coming. And the M240i does tend to push. Of course you can wang the tail out if you want by summoning that surfeit of torque to unhook the 255/35 R19 Pirelli P Zeros at the back – the fronts are 225/40 R19. In fact, having moaned about the tail-happy nature of the last car, this one could cope with being livelier still.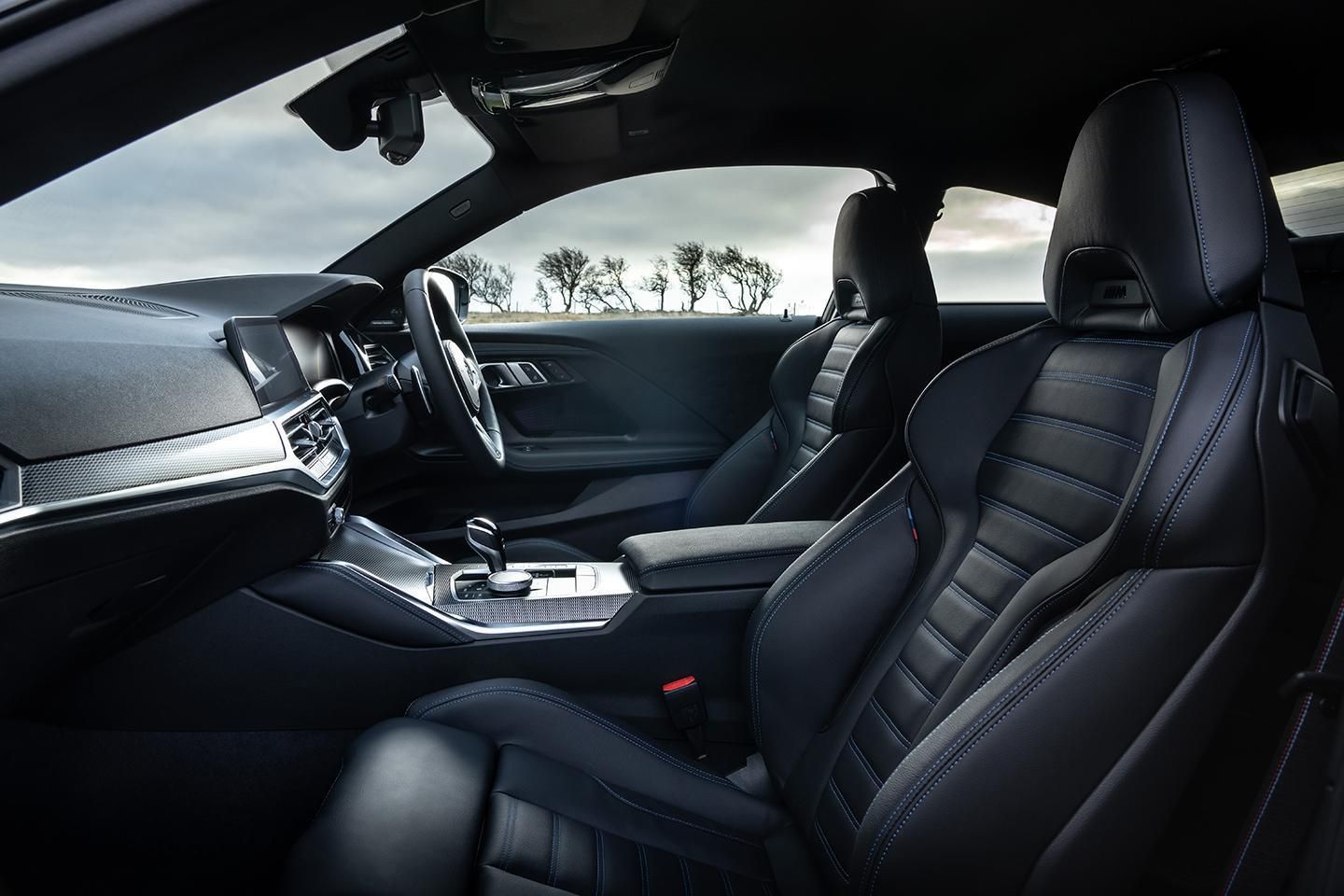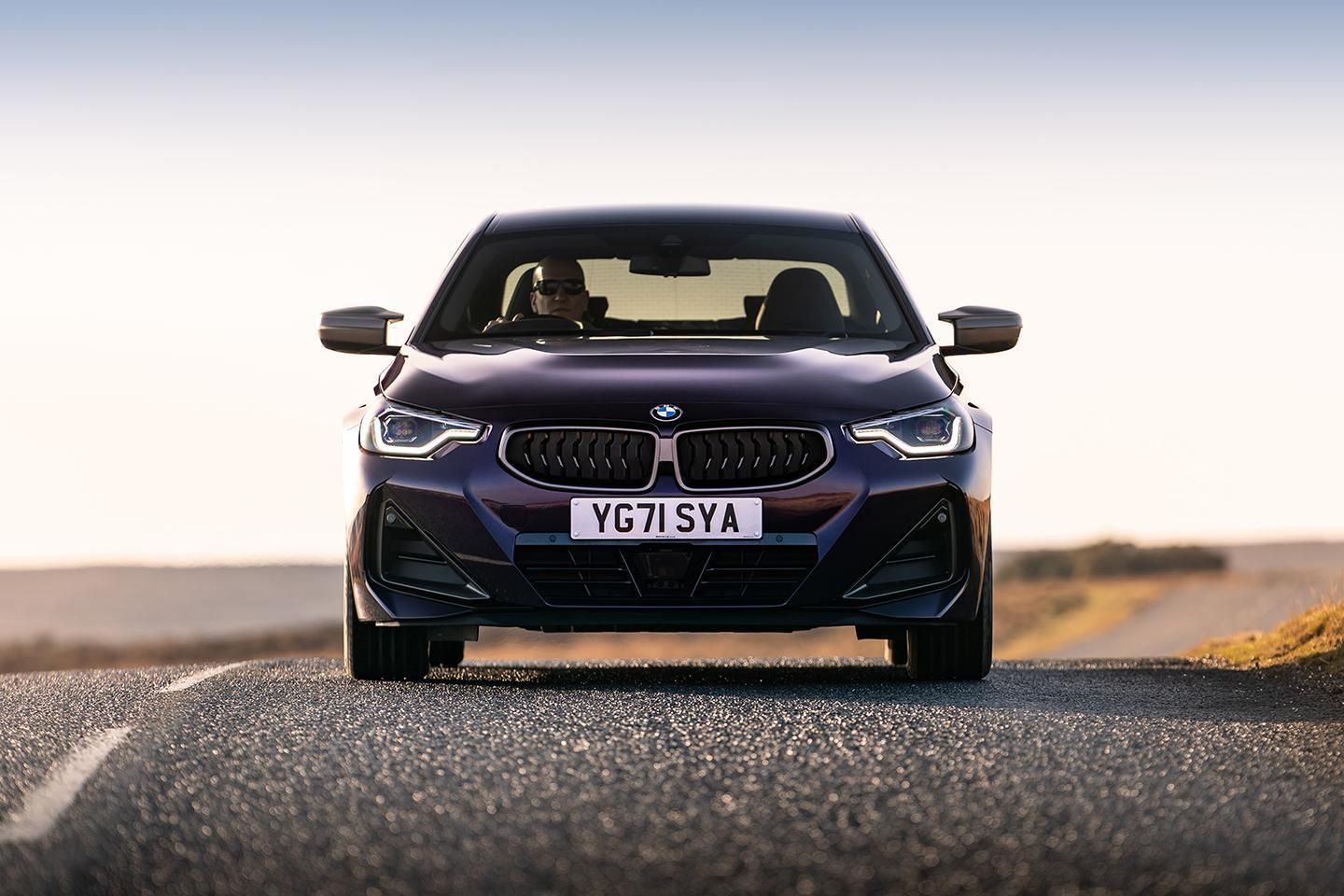 That's because it feels immeasurably better rooted. In normal conditions, power is sent only to the M Sport rear differential, but, when there's rear slip detected, the electronically-controlled multi-plate centre clutch pack shoves drive forwards. Obviously this means much better traction than before, but it's not just clever AWD that gives you bags more confidence to press on. It's the body control, which is on a different plane to the old car. It's still not perfect – I'd suggest the Audi RS3 Saloon is better damped – but that's another £10,000, so it ought to be. Nevertheless, there are times in the M240i when it sinks at speed into a depression and you feel the springs compress as if they're stuffed with memory foam, and think 'yeah, that was nice.' You'd have never got that feeling in the old car – which is why this one would pull F22's pants down over any stretch of B-road.
There's none of the old car's pogoing, either, which make it more comfortable, too. This one was fitted with the optional adaptive dampers and, bar the odd sharp strike on a particularly perforated road, it has all the compliance you could wish for. Sport mode is a bit unnecessary over the sort of surfaces I was travelling on, but not unremitting. And because this is such a well-sorted platform throughout, there's very little suspension or wind noise, and while you hear some drone from those Pirellis you can still hear the radio or the person on the other end of the phone.
The other advantage of basing this car on the current 3 Series platform is that you get the 3 Series' interior. And that's very nice indeed. It's supremely well made and looks more gentlemanly than the 1 Series' cabin, which, although sturdy, makes you feel like you're in a hatchback. Which you are. Here, you're made to feel like you're in a premium exec. Which, again, is because you are. It's even roomy enough to get two people in the back seats without chopping them up first, and it takes 390 litres of stuff to fill the boot, which is a lot for a car of this size. The RS3 Saloon manages just 321 litres.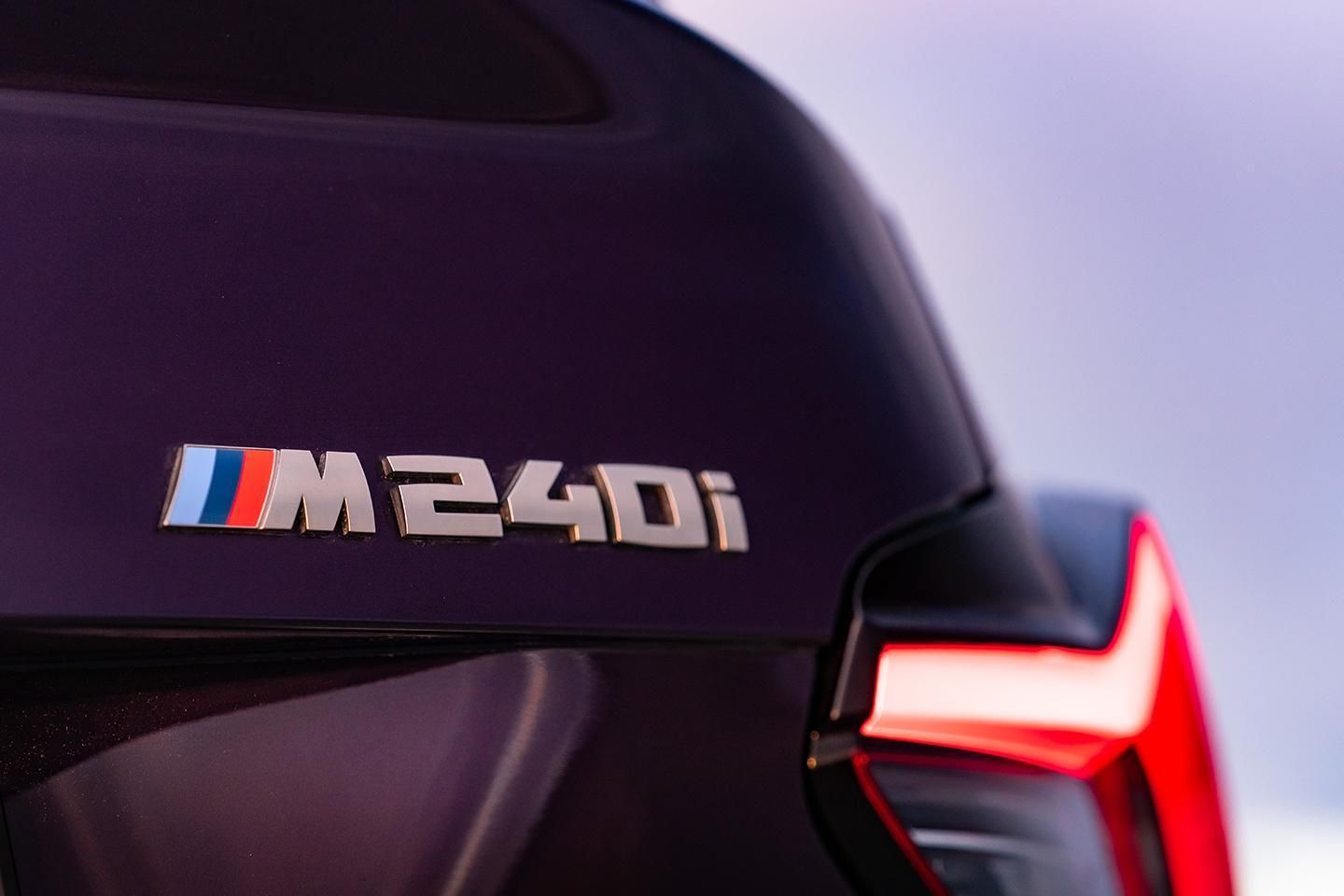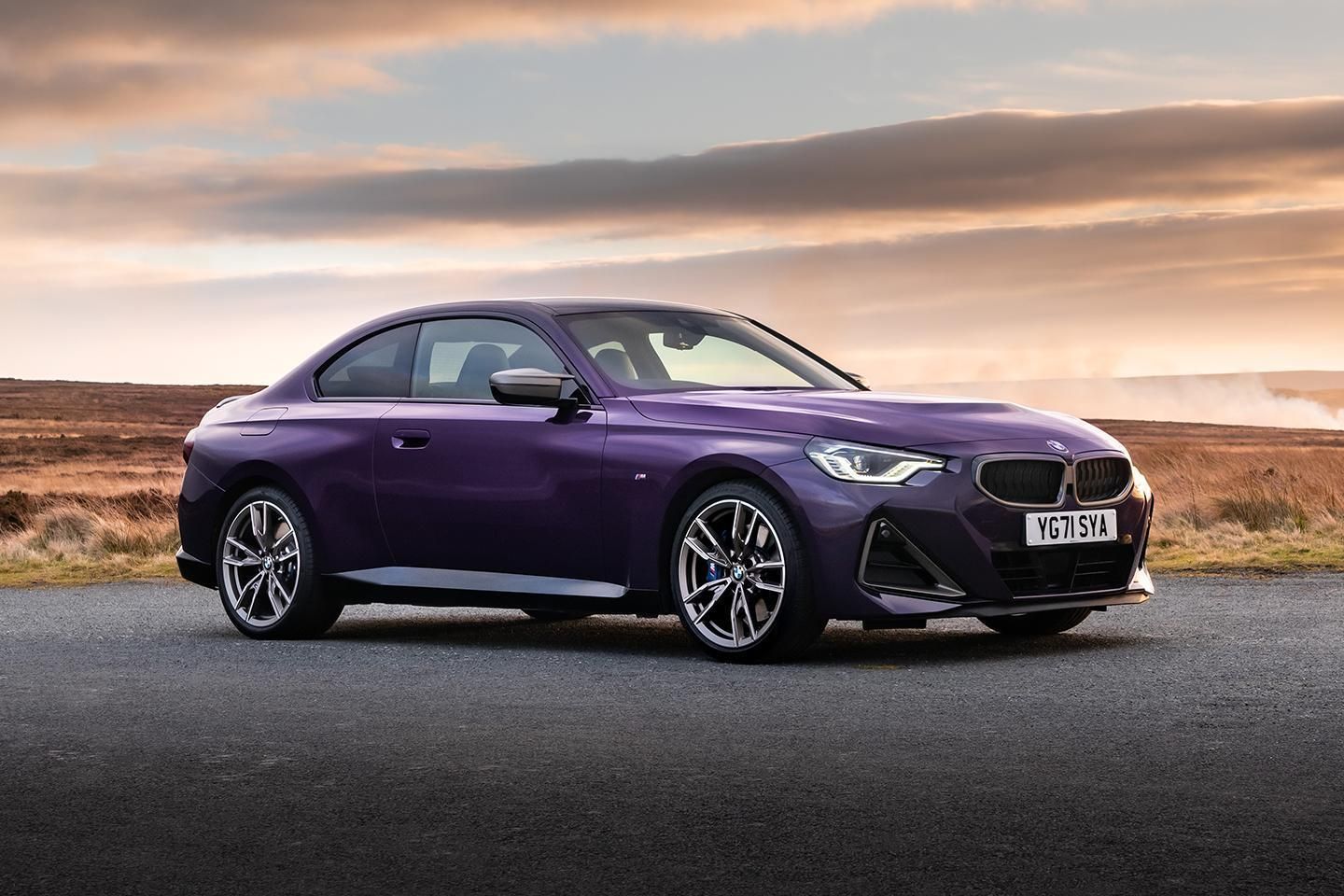 So all in all, I liked the M240i xDrive and, at £45,000, I think you could even say it's good value in the current climate. Yes, that's £10,000 more than its predecessor, but if anything speaks to that car's comparative quality, it's that they were able to sell it for so little. You get what you pay for, remember, and this thing is worth every penny, because, unless you are impossibly ungifted, it won't end up on its roof.
The only thing is, I'm not sure I loved it. But only because it feels like it could've been even better. You see, the fundamentals are now so good that I'm not sure it needs four-wheel drive. Now it's got more sophisticated underpinnings and a properly tuned suspension it could, I reckon, cope with all that power using just its M Sport electronic rear diff alone. That would make it lighter and lither and better still. Or you could also argue I need to give my head a wobble. I've just spent two weeks in a G80 M3, which is so fantastic it would make any car feel a bit disappointing. Except perhaps an M2 built on this platform, which I fully expect will be utterly brilliant.
Specification | BMW M240i xDrive (G42)
Engine: 2,998cc, straight-six, turbocharged
Transmission: 8-speed automatic, four-wheel drive
Power (hp): 374 @ 5,500-6,500rpm
Torque (lb ft): 369 lb ft @ 1,900-5,000rpm
0-62mph: 4.3secs
Top speed: 155mph
Weight: 1,765kg (EU)
MPG: 34.4
CO2: 186g/km
Price: £45,795
Price as tested: £48,065